"I am currently in my final year of Chatham University's Occupational Therapy Doctorate program and I am completing my doctoral project with the Alexis Joy D'Achille Center for Perinatal Mental Health, an intensive outpatient center located in West Penn Hospital."
Lauren Briggs
Lauren Briggs, 3rd year OTD student
Introduction
My project's purpose is to create a program and educate staff on the role of functional mobility and mindfulness in maintaining meaningful occupations of perinatal women. When I chose the Alexis Joy D'Achille Center to complete my doctoral dissemination, I began to brainstorm all the ways I could use my clinical and didactic knowledge to benefit the site, its staff, and its clients.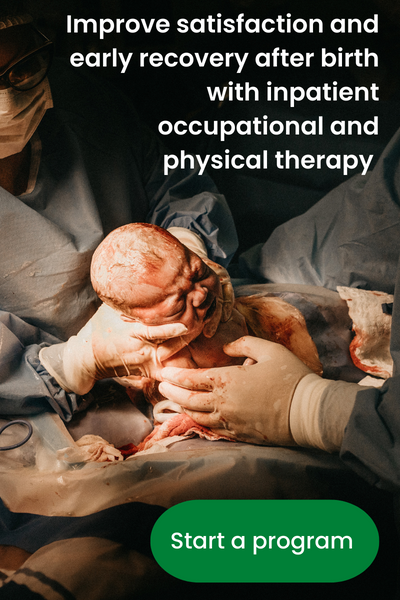 I conducted a literature search and found strong evidence that suggests that both physical activity and mindfulness can have lasting physical and mental health benefits, which led me to my final project proposal.
Here are 4 benefits of occupational therapy in the hospital after birth:
1. OTs provide evidence-based strategies on how to cope with perinatal anxiety and stress
As an occupational therapy doctoral student and future practitioner, my job is to help individuals engage in occupations that are meaningful to them in their everyday life. The field of women's behavioral health places importance not only on the physical health of women but also on their emotional and mental health. This holistic approach is a foundational principle of occupational therapy.
2. OTs provide education on proper body mechanics when holding and feeding a baby
After a vaginal or cesarean birth in the hospital, there is often a long road of recovery for the mother both physically and emotionally. Providing occupational therapy services to women before leaving the hospital could give them the tools they need to identify their new role and routines as a mother.
3. OTs help to improve sleep hygiene after birth
There is a strong relationship between occupation and health. Perinatal women diagnosed with various mood disorders are likely to experience occupational disruption, meaning their roles and identities change drastically due to the physical and emotional changes that occur during and after pregnancy.
4. OTs educate on safe and effective exercises to regain physical function before leaving the hospital after birth
There are several opportunities for occupational therapists to use their unique expertise in helping individuals restore function while also addressing the specific needs of each client as it pertains to their environment and contexts.
I feel a deep sense of responsibility as a future OT to advocate for OT's role in the field women's behavioral health because of the direct impact our scope of practice has on addressing the mental and physical needs of women in the perinatal stage of motherhood.