Recording vital signs only at rest hurts the mother and her baby
Dr. Rebeca Segraves, PT, DPT, WCS
I was working with a mom on a high-risk pregnancy unit who was about to be discharged after being admitted for several weeks for preeclampsia with severe features.
The mom told me she had stairs at home and she had to walk around her apartment building from the parking lot to access her 2nd level unit. I documented her blood pressure which remained elevated for more than 10 minutes after a relatively slow walking pace while she held onto the hallway banister in the hospital. We had attempted 3 steps for the first time during her hospital stay, which were much less than she would have to perform when she returned home.
I will never forget how upset her nurse was with me for documenting her blood pressure. She was not upset that we practiced the activity that the expectant mother was going to do at home. The nurse was also not upset at the education I provided to her patient on monitoring her own blood pressure and conserving her energy by taking rest breaks.
Rather, the nurse was upset that I recorded the patient's blood pressure readings in her chart, which were now too high to discharge her that day. The nurse explained to me that she had only been charting the woman's blood pressure at rest and that I should have done the same.
The two reasons why I teach Occupational and Physical Therapists to ask specific questions about home environment, social support, occupational goals, and to evaluate vital signs before, during, and after activity, especially in the perinatal population, are:
To accurately depict a person's response to the activity they will perform in their daily lives, not just at rest.
To embrace a model of care where social determinants of health are prioritized when evaluating the context in which people live, work, care for themselves, care for their children, and obtain the support when they need it the most.
If current maternity care practice is evaluating vital signs only at rest, then we are missing opportunities for preventing complications like preeclampsia that are impacted by physical activity during pregnancy and immediately postpartum.
World champion sprinter and three-time Olympic medalist Tori Bowie died from complications related to childbirth, an autopsy found. Photo credit: https://www.nbcnews.com/news/us-news/olympic-sprinter-tori-bowie-died-childbirth-complications-autopsy-rcna88995
It is never enough to educate mothers on not "overdoing it" while dismissing how their response to activity may be very different from what we consider "normal."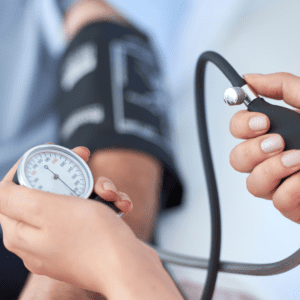 Functional evaluations during perinatal admission by Occupational and Physical Therapists are especially important for the maternal population who has a relatively higher demand of activity involved with newborn care, care of additional children at home, and care of themselves when compared to other patient populations.
If you are passionate about improving access to wraparound services for individuals in the hospital and home during pregnancy and immediately after birth, please share your experience to improve care going forward.